Located near Formby in Liverpool (Head Office), Medical Thermography Ltd has been providing Thermography services for over a decade.
We have a skilled team of board-certified Thermologists operating from upwards of 40 locations nationwide and medical doctors to support you and interpret your images, to give the best possible experience.
We use the most advanced high-resolution Medical Thermography systems to ensure we obtain the best possible images and accuracy for interpretation.
Thermography is Free from Radiation, Compression free, Non-contact and suitable for all ages.
Thermography is adjunctive to other tests and can provide additional information to assist in further health tests.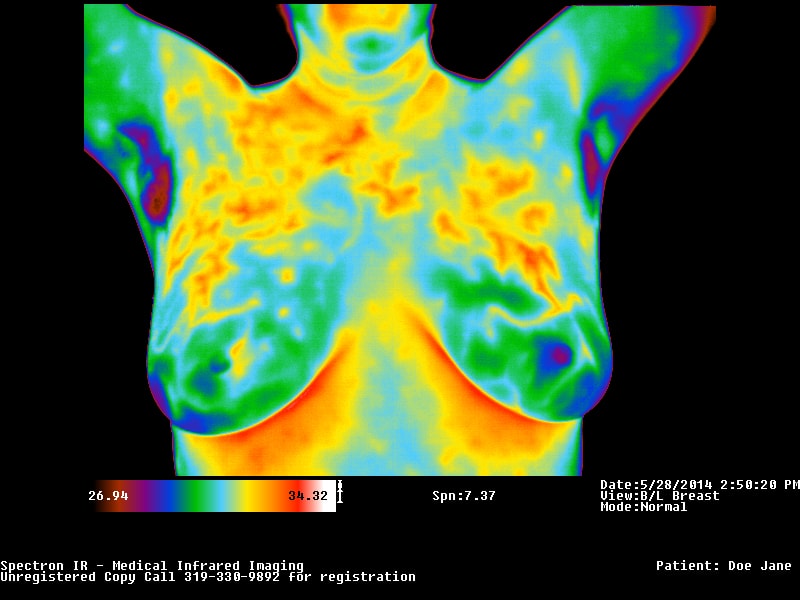 Clinic Locator
To use the LOCATOR effectively enter your town or postcode below and then 'Search'. If no results are found, adjust the search radius in the drop-down box and search again.
Frequently Asked Questions
Why might I need Thermography?
Abnormal breast physiology tends to have increased metabolic activity and blood supply (angiogenesis) which generates heat, revealing distinctive patterns. Identifying this activity by interpreting these patterns enables early intervention, reducing the risk of further metabolic activity.
How often should I have a Thermogram?
In order to gain the maximum benefit from Thermography, after your first appointment which will establish your 'baseline', you will need an annual Thermogram in order to compare (against the baseline) and monitor any changes in your physiology which could indicate a change in your breast health.
What are the benefits of Breast Thermography?
Radiation-free
No Contact and Pain-free
Compression-free and Non-invasive
Where can I have a Thermogram?
We run over 40 clinics across England and Wales on certain dates throughout the year. Please use this page to search for the clinic nearest to you. Please also see our calendar here and contact us to set up an appointment at your earliest convenience.
What can I expect during my appointment?
Having a Thermogram is non-invasive, pain-free, and doesn't involve radiation or any contact. During the examination, you will disrobe to allow for the surface temperature of your body to reach thermal equilibrium with the temperature of the room.
How should I prepare for my Appointment?
Before your appointment, certain protocols must be followed in order to ensure that your images reflect accurate information. Please see a full set of instructions here.
Medical Thermal Imaging Ltd
71 Lord Sefton Way
Great Altcar
L37 5AB
Phone : 0333 8003003
[email protected]
Head Office
Medical Thermography Ltd.
Doctors Lane
Off Lord Sefton Way
Great Altcar
L37 5AB
Phone : 0333 8003003
[email protected]
Do you have any questions?
If you feel like a chat please fill in this quick form and we will get back to you with some answers.
We only store your data if we provide our services to you.
Thermography is an adjunctive procedure and all interpretive findings must be clinically correlated.
Thermography is not a substitute for anatomical testing and results will vary from person to person.
The absence of abnormal Thermographic findings does not mean that there is an absence of pathology.