Medical thermography is an infrared technology used to detect abnormal vascular activity due to its sensitivity to variations of emitted heat. Such monitoring affords detection of even subtle thermal changes that, although not independently diagnostic, may precede anatomical findings and prompt early investigation and prevention. Thermography does NOT see or diagnose cancer.
Abnormal breast physiology tends to have unusual blood vessel patterns that give off more heat than the surrounding tissue. These patterns of activity vary in intensity and distribution over each body region, represented by images with variation in colours. Changes of these patterns allow for the recognition of asymmetric, abnormal or suspicious thermal patterns – for example, the difference between the thermal pattern on each breast, and may be recognised by the interpreter as abnormal physiology or function.
Frequently Asked Questions
Why might I need Thermography?
Abnormal breast physiology tends to have increased metabolic activity and blood supply (angiogenesis) which generates heat, revealing distinctive patterns. Identifying this activity by interpreting these patterns enables early intervention, reducing the risk of further metabolic activity.
How often should I have a Thermogram?
In order to gain the maximum benefit from Thermography, after your first appointment which will establish your 'baseline', you will need an annual Thermogram in order to compare (against the baseline) and monitor any changes in your physiology which could indicate a change in your breast health.
What are the benefits of Breast Thermography?
Radiation-free
No Contact and Pain-free
Compression-free and Non-invasive
Where can I have a Thermogram?
We run over 40 clinics across England and Wales on certain dates throughout the year. Please use this page to search for the clinic nearest to you. Please also see our calendar here and contact us to set up an appointment at your earliest convenience.
What can I expect during my appointment?
Having a Thermogram is non-invasive, pain-free, and doesn't involve radiation or any contact. During the examination, you will disrobe to allow for the surface temperature of your body to reach thermal equilibrium with the temperature of the room.
How should I prepare for my Appointment?
Before your appointment, certain protocols must be followed in order to ensure that your images reflect accurate information. Please see a full set of instructions here.
Reports are based on study guidelines that are based on, but not limited to, side-to-side temperature, intensity measurement and comparison, established thermological signs including pattern recognition and comparison of changes over time. This method of analysis allows objective clinical correlation by the patient's physician and contributes to the decision-making process regarding therapy, additional testing and eventual diagnosis.
Thermography is an adjunctive test and does not replace mammography or any other anatomical imaging test. A negative thermogram, mammogram and/or ultrasound does not preclude biopsy based on clinical condition. The value of thermography as a imaging tool is the non-invasive nature of the test and the unique ability to accurately measure skin temperature changes. Such monitoring affords detection of even subtle thermal changes that, although not independently diagnostic, may precede anatomical findings by years and prompt early investigation and prevention. As there is no single known test capable of monitoring all complex anatomical and biological influences of disease; monitoring with additional testing such as ultrasound, MRI, mammography or other testing as recommended by the patient's personal physician is always advised.
This scale is used for breast evaluation purposes. It is noteworthy that the TH system is not a comparative rating to BIRADS TH-1 Symmetrical Bilateral – Non Vascular (non suspicious, normal study) TH-2 Symmetrical Bilateral – Vascular (non suspicious, normal study) TH-3 Equivocal – Low index of suspicion TH-4 Abnormal – Moderate index of suspicion TH-5 Suspicious – High index of suspicion.
Studies provide adjunctive clinical information and recommendations based solely upon the images and patient information provided, to support the patient's physician in medical or health evaluation. All findings in this report are considered by the interpreter to be related to the general health of the reported region. A "Thermographically Suspicious" finding in this report does not indicate that it is suspicious for any specific disease. However, any suspicious finding will be accompanied with a strong and intentional recommendation for further clinical evaluation. This report should be presented to the imaged patient's personal physician to determine the nature of the appropriate follow-up course of action /evaluation. Additional follow-up thermal exams for comparison are strongly recommended. The Thermographer and the reporting Thermologist are not responsible for the failure of the imaged patient or the patient's physician, to follow recommendations set forth in the report.
Patients presenting with previously diagnosed cancer
The value of thermography as a screening tool is its non-invasive nature and the ability to measure skin temperature changes. The skin is the largest organ of the body and as such provides vital information. This information is directly influenced by the constellation of metabolic and vascular activity known to contribute to the inflammatory milieu facilitating development and progression or regression of the disease. However, thermography interpretation does not include information or recommendations related to the measured changes of disease beyond skin temperature changes and patterns. As there is no single known test capable of monitoring all biological influences of the complex disease generally diagnosed as cancer, continued monitoring with available additional testing as recommended by your personal physician is strongly advised.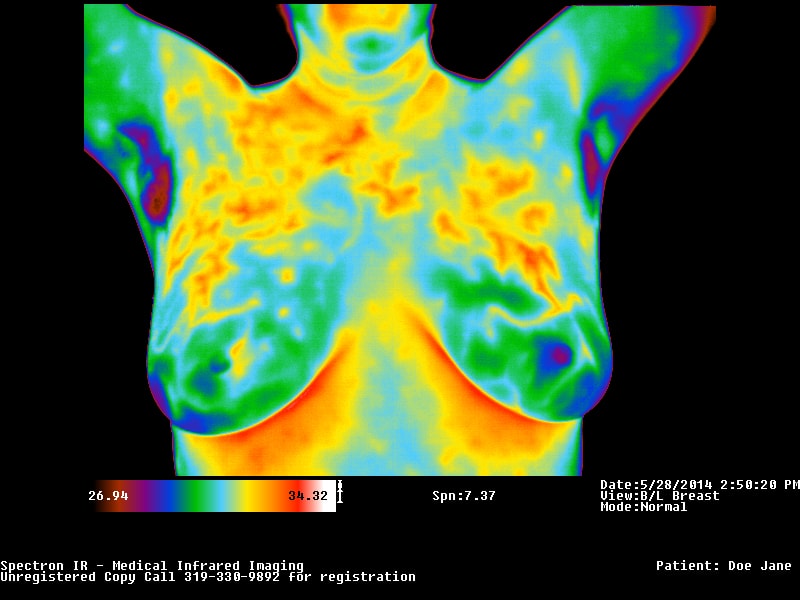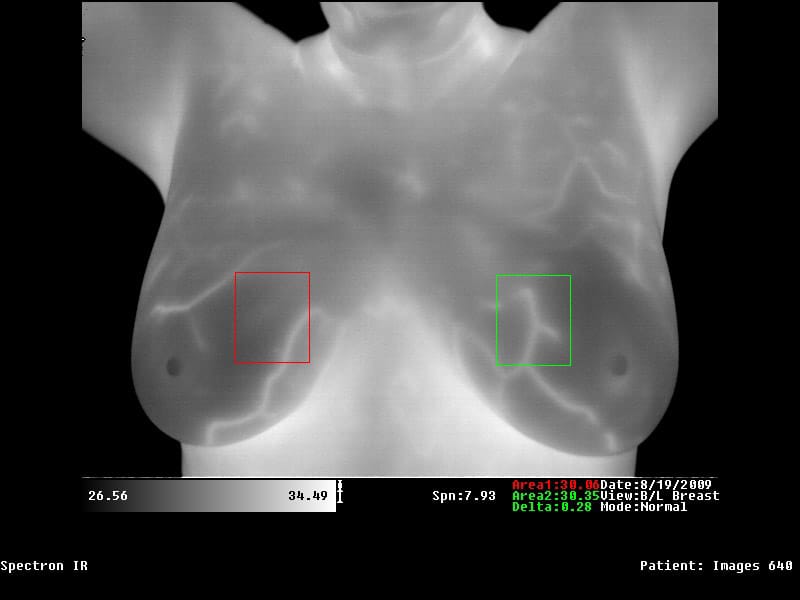 Do you have any questions?
If you feel like a chat please fill in this quick form and we will get back to you with some answers.
We only store your data if we provide our services to you.
Thermography is an adjunctive procedure and all interpretive findings must be clinically correlated.
Thermography is not a substitute for anatomical testing and results will vary from person to person.
The absence of abnormal Thermographic findings does not mean that there is an absence of pathology.